When you find Commercial Mold Damage in your Retail Store in Durham Contact SERVPRO
8/5/2019 (Permalink)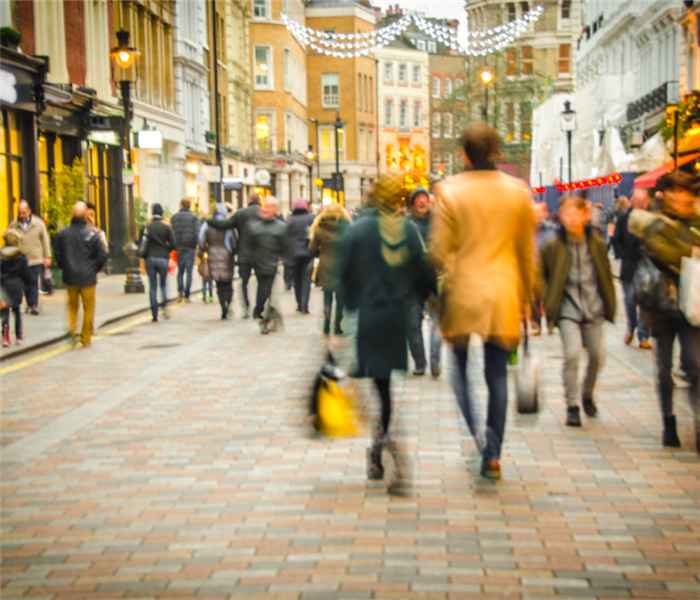 Your store can be taken over by mold damage steadily over time. Call the professionals at SERVPRO today for remediation assistance.
Commercial Mold Damage in Durham
Independent retailer shops can often have problems with microbial growth since buildings are usually vacated overnight. That means, any unnoticed moisture problems can become a breeding ground for mold spores that can germinate and proliferate in as little as forty-eight hours. Stock rooms are at particular risk since these spaces often have inadequate insulation or are located beneath ground level. Faulty exhaust vents, changing exterior temperatures or slow leaks can all contribute to increased humidity levels, which in turn, create the ideal conditions for mold growth.
It is possible to lessen the impact of commercial mold damage in your Durham retail store by performing regular cleaning as well as using air fresheners or scented oils and candles. However, mold can put your health at risk and goes beyond the remit of your inhouse staff team. The second issue is that failure to address the source of a mold incident means that the fungi continue to return. Cleaning on Friday can easily result in the return of mold colonies on a Monday if the store is closed at weekends and provides an extra task to your everyday business practice.
SERVPRO provides professional mold assessment and remediation technicians to business communities who want to curb microbial growth efficiently and effectively. We can often provide you with advice about how to control microbial growth by investing in equipment like dehumidifiers to be placed in your stock room that can keep the air dry and reduce the likelihood of mold spores germinating. You should also invest in a thermal hygrometer to keep an eye on humidity levels during wetter and warmer periods of the year.
Addressing the immediate issue, SERVPRO uses a contain, control and remediated method to get your business back to its preloss condition. First of all, we establish a containment zone to prevent mold spores from becoming airborne and spreading throughout the building. These are especially important in fabric or fashion retail where stock is at a high risk of mold infestation. Applying negative air pressure during demolition or mechanical cleaning further helps to prevent the spread of mold, allowing us to remediate immediate damages, and control humidity to prevent continued growth.
A mold incident in your stock room could result in expensive stock losses as well as an unpleasant working environment for your staff. Contact SERVPRO of Durham at (603) 868-3343 today.
Click here to see more about Durham.