When Stormy Weather Threatens Your Durham Home
11/7/2018 (Permalink)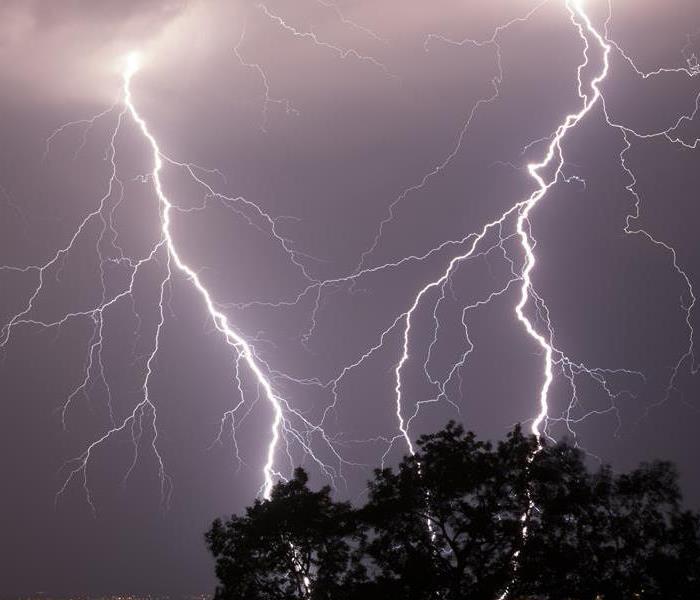 Storms can wreak havoc on your home. Call SERVPRO for their professional experience, training, and equipment to restore your property.
Flood Damage Experts In Durham Talk About The Use Of Technology During Restoration Projects
When thunderstorms hit the Durham region rain, wind, and hail can ruin building materials that make up the structure of your house. The elements that exist during stormy conditions can cause a variety of types of flood damage. If water builds up outside and gets deep, then it can find its way into your house and negatively affect both your building materials and contents. The longer items inside a structure stay wet, the worse problems they can become. It is often necessary to call in a professional company like SERVPRO to remove the moisture out of your possessions and structural components as quickly as possible so that the flood damage to your property is minimized.
Rapid water removal is not as easy as it may sound and it can require specialized equipment as well as knowledge and experience. When our SERVPRO team mitigates flood damage in the Durham area, we use the most industrially advanced technology to aid in the project. As with everything these days, the tools utilized in the restoration industry are continually evolving as more research gets conducted and better technology becomes available. Our priority is to stay up to date with the latest findings and procedures so that we can bring to the table the best solutions to aid you with your compromising situation.
During any mitigation procedures we conduct, not only do we use the most advanced technology but we also have a highly trained team. Our SERVPRO technicians that quickly respond to your emergency are IICRC certified and continually educated. We use a combination of what we have learned through certification programs and the knowledge that we have gathered through our on the job experiences in several different situations.
Most water-related restoration projects require immediate extraction to remove standing water and saturated porous materials. Then rapid structural drying takes place so that moisture levels of organic materials return to preloss conditions which lower the chances of microbial growth. If you ever need help after a storm, calling SERVPRO of Durham at (603) 868-3343 immediately can give you peace of mind after a disastrous situation.
Durham was originally called the Oyster River Plantation. Read more about Durham's history here.